St. Eugene's Care Packs
---
Assumption High School Today
What do you give a Saint for the 150th anniversary of his death? &nbsp Come on, I'm sure there is more than one STA or AHS grad who has had to grapple with this dilemma. &nbsp Some answers to your questions are: The Saint is Eugene de Mazenod, Founder of the Missionary Oblates of Mary Immaculate (think old St. Henry's Prep. Seminary near Althoff, King's House in Belleville, and Shrine of Our Lady of the Snows). Geri Furmanek (STA '72) works for the Oblates as the National Director for Mission Enrichment & Oblate Associates and came up with: St. Eugene's Care Packs. &nbsp These are backpacks (containing personal hygiene items, towel & washcloth, socks, gloves, hat, etc.) given to indigent ex-offenders as they are released from prison. &nbsp By now, you can guess where the prison is… the old Assumption High School! &nbsp Many of you probably "toured" the Southwestern Illinois Correction Center before it began its life as a Level 6 Minimum-Security Adult Male and Level 7 Low Minimum-Security Adult Male facility with a daily population of 672.
---
Southwestern Illinois Correctional Center (SWICC)
Southwestern Illinois Correctional Center (SWICC) is a totally dedicated substance abuse treatment community. &nbsp Each department participates in the offender recovery process by evaluating and assessing the performance of the offenders under its direction. &nbsp All offenders involved at the facility attend substance abuse treatment groups five days per week for a minimum of 15 hours. &nbsp The Illinois Department of Corrections website has additional information. &nbsp Many of you know Warden James Davidson. &nbsp I am most grateful for his willingness to allow this outreach program. &nbsp With the support of the staff of the Reentry Program, those most in need, after serving their sentence, are given a backpack the day of their release. &nbsp The backpacks were begun with seed money from the Missionary Oblates and two STA '72 donors: Maureen (Brennan) Schaefer and Jeanne (Cygan) James. &nbsp The items (See the picture below of backpacks and contents) have been cleared by Internal Affairs. &nbsp Each backpack and contents costs approximately $50 (during the winter months a hat and pair of gloves are included). &nbsp 20 backpacks are taken to the facility every 4-5 weeks.
---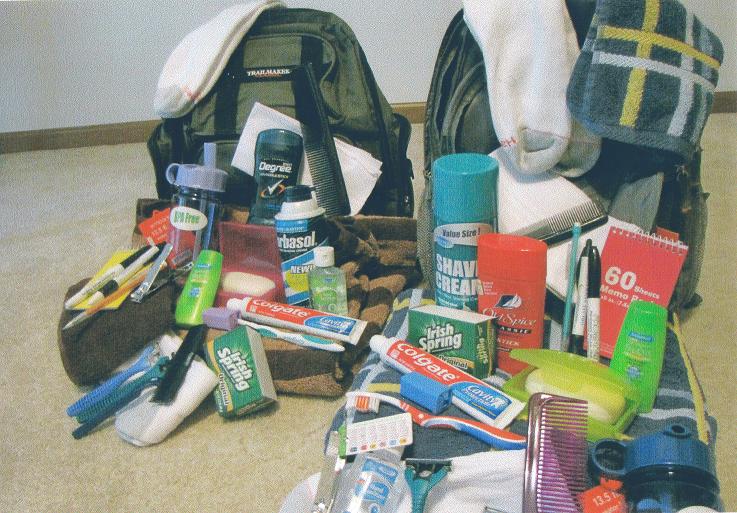 ---
If you would be able to make a donation, it would be appreciated.
Any questions, please call my office: (618) 394-6990.
Please make checks payable to Oblate Associates and send to:
Geri Furmanek, Director
Mission Enrichment & Oblate Associates
224 So. De Mazenod Drive
Belleville, IL 62223-1035
Also, if you know of an executive at Target, Big Lots, or Deals, please let me know, I'm not above begging for this good cause!
Eugene de Mazenod who did prison ministry in France as a young lay man wrote to his father on January 19, 1807: "… the one who is fulfilling this ministry of charity does not see in these criminals… anything but unfortunates in need of help. It is the task of justice, with both equity and severity, to establish guilt, our duty is to ease their sufferings by every means in our power…"